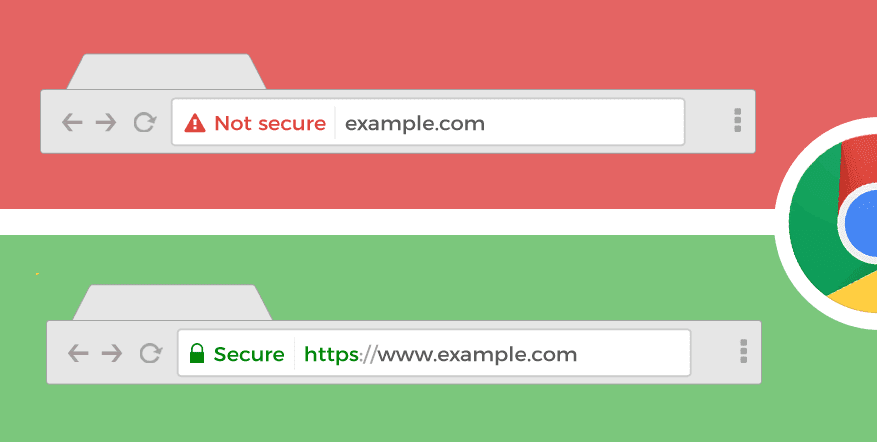 We'll begin at the beginning, What is SSL?
It's basically the little 's' in https://www.

The geeky bit: SSL (Secure Sockets Layer) is the standard security technology for establishing an encrypted link between a web server and a browser. This link ensures that all data passed between the web server and browsers remain private and integral.
But how can SSL affect your website?
Well, the obvious benefit is the encryption you get with SSL. As critical data leaves one destination for another it is encrypted so that hackers can't access it and steal personal information. This gives you and your customers protection during the online transfer of sensitive information. But it's not just security that is affected by SSL, search engine rankings are also based on whether your site has an SSL certificate.
HTTP or HTTPS for SEO?
Not so long ago we all started to migrate our websites from HTTP to HTTPS in a bid to step up security online. This isn't just your average Penguin or Panda update, it's a matter of increasing online security. An SSL certificate is crucial in the era of digital fruition, if your website doesn't have one then customers shouldn't be purchasing from you. It's as simple as that.
Not sure of the difference between HTTP and HTTPS? Well, basically, the latter is the secure version of the former and ensures all communications between your browser and the website are encrypted – this is where the SSL certificate comes in. It has also been a ranking factor since 2014, so we know that Google favours secure sites, and they will be ranked above their not-so-secure counterparts in the SERPs (search engines results pages.)
Why https is important for SEO
Google announced that it will favour pages on sites in organic search results that are entirely secured by HTTPS. They said:
'Starting October 2017, Chrome (version 62) will show a "NOT SECURE" warning when users enter text in a form on an HTTP page, and for all HTTP pages in Incognito mode.' Google Webmasters Notification
Google prefers secure websites. It's no surprise then that it favours them in the search results. In its quest for a safer web environment, it has no qualms with sending secure websites up the search results and banishing their old HTTP counterparts to the back and beyond. In fact, since last year switching to HTTPS has been regarded as something of a no-brainer, largely due to the search engine resting so much weight on online security.
Then came the summer of 2018, when Google announced another blow to those of an HTTP disposition. That's right, they decided they would name and shame. If you couldn't transfer your website to the more secure HTTPS, you would be called out on it in front of all your customers. Having been actively marking the sites as insecure since February, Google ramped things up a notch or two in July when it decided to alert surfers of the world wide web once they dared to stumble upon an insecure site.
And if you thought Google was harsh, you might want to consider that a number of hosts will block forms that don't have SSL. They see it as a weak point and in 2018 and beyond, the internet is only getting more and more secure.
It's all about trust
We're beginning to trust the web more than ever. Mobile shopping is constantly increasing and it seems most of us would rather order something from the comfort of our homes than risk wrapping up and braving the elements. And who can blame us when the web is at our fingertips and our goodies can be delivered straight to our front doors?
This doesn't mean that we're happy to hand our money out willy-nilly. We're a security-conscious bunch and 60% of people claimed they have foregone buying something online because there was no trust logo listed on the page. The fear is real, with 75% of people admitting they have failed to purchase because they didn't recognise any of the trust logos displayed.
The digital eagles are on hand
Barclays has been helping those who struggle with the digital era since the conception of their Digital Eagles campaign. A series of blog posts and videos help silver surfers and the like grow in confidence with their digital decisions – from banking to online shopping and everything in between.
Christmas 2017 was a golden opportunity for this banking giant, as they launched their Christmas advert advising consumers not to shop online unless a website had a secure padlock. Portrayed by toys who didn't want to be purchased from a non-secure website, it made users aware of the power of the green padlock.
What certificate do I need?
There's no doubt that a secure site is a way forward. How you achieve this is largely dependent on the level of security your website needs. The standard certificate issued is a domain-validated SSL certificate, but there are different levels of certificate required based on your website and the type of security it requires.
What's next?
HTTPS might be more secure, but it isn't 100% hack-proof. Step aside HTTP and HTTPS, the new kid on the SEO block is HSTS, but what's the difference? Currently, when a website is using a 301 redirect there are a few milliseconds in which the browser tries to access the HTTP version of the website, simply because it cannot know until it hits the redirect that the site has moved onto a HTTPS platform. Not a problem for many users, who won't even realise this is happening, but for hackers, this is gold dust. They can sneak in and slip an intercept request over the insecure HTTP, blocking the site from using HTTPS.
This is where HSTS takes centre stage. It disregards the initial call for a HTTP connection, forcing the browser to remember that the site supports HTTPS and bypassing the stage at which a hacker would be able to work their magic. There are other added benefits too, it makes pages load faster so it's not unthinkable that your SEO could get a helping hand in the process.
Solve (-ing) SSL
If SSL has got your head in a spin, we can help solve your SSL problems. From transforming your website from HTTP to HTTPS to advising you on the type of SSL certificate that's best for your website, the Solve team are here to Solve your web problems.