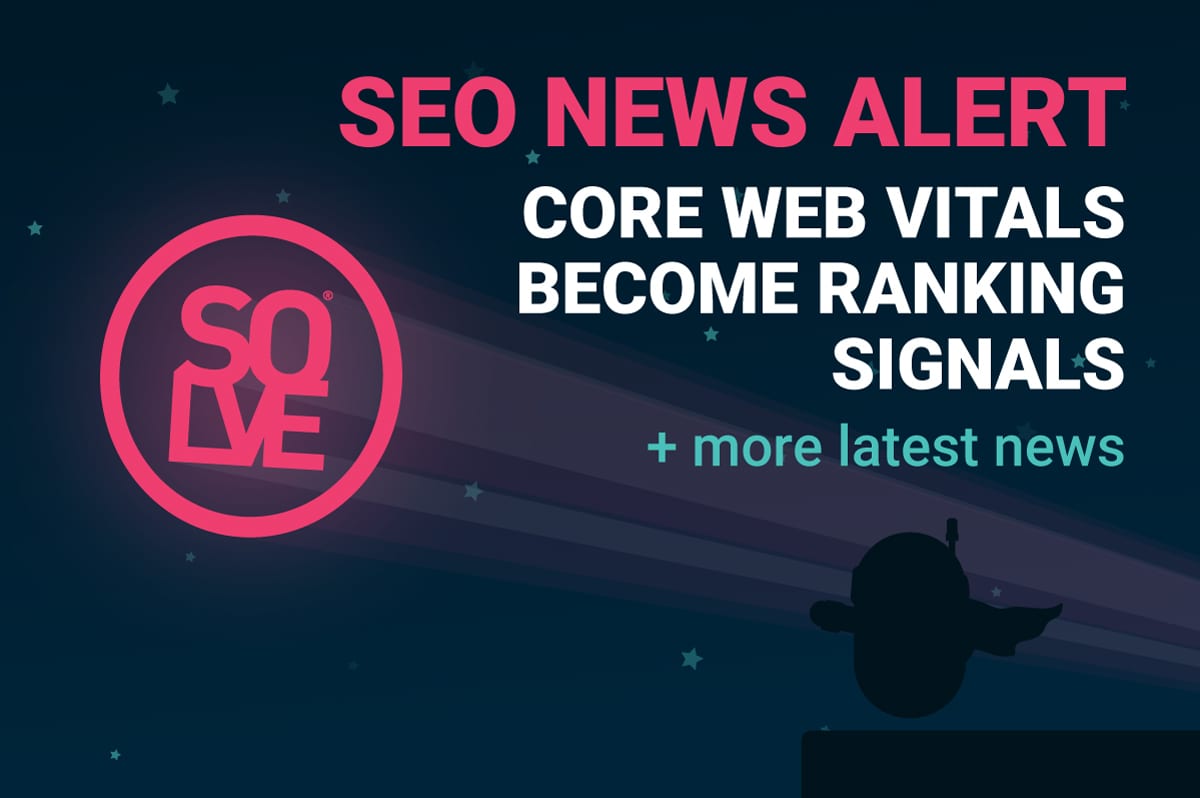 Can you believe another month has passed already?! And, as ever, it's been a busy one in search-land. From core updates to new ranking signals, here's all the latest SEO and search news from the geeks at Solve.
Google's May 2020 Core Update
At the very beginning of May, Google began rolling out its second core update of 2020. The update took 2 weeks to complete, with Google confirming via Twitter on 18th May that roll out was complete.
Word on the web is that it was a pretty big update. Like all core updates, this algorithm change has the potential to affect search rankings, for better or worse. Have you noticed any changes? Google has a handy article which outlines how core updates work and what fluctuations in ranking mean. The gist of the article is that site owners should focus on publishing original, relevant, informative content, and then updates like this, should have little impact on ranking.
Check out our tips for writing top-ranking content for more detailed advice on how to write content that both potential customers and search engines will love.

Core Web Vitals as a Ranking Signal
Google announced this month that it will be introducing a new signal that will influence search rankings. Known as the 'page experience signal', it will be based on a combination of its new Core Web Vitals and other user experience signals like mobile-friendliness, safe-browsing and HTTPS-security.
Core Web Vitals were introduced earlier this month. They are a set of website metrics in relation to load speed, interactivity or responsiveness, and visual stability.

Source: Google
According to Google, Core Web Vitals assess:
Largest Contentful Paint – How long it takes for a page's main content to load, the ideal being 2.5 secs or faster.
First Input Delay – How long it takes for a page to become interactive. Ideally less than 100 ms.
Cumulative Layout Shift – The amount of unexpected layout shift of visible page content. Google likes this to be less than 0.1.
Assessing your Core Web Vitals is easy too as Google has added a report to its Search Console. Where the old speed report used to be, you'll now find the new Core Web Vitals report which provides a comprehensive assessment of the URLs on your site, deeming each as either 'Poor,' 'Needs Improvement,' or 'Good'.
Google strives to provide users with the best possible results, so with this new ranking signal, they hope to encourage site owners to create websites that visitors enjoy using. And in short, if Google sees your site as providing a better user experience, they will provide you with a better ranking in the SERP.
They are quick to confirm that quality, relevant content still trumps user experience though.
Google states:
"A good page experience doesn't override having great, relevant content. However, in cases where there are multiple pages that have similar content, page experience becomes much more important for visibility in Search."
So if you have similar content to your competitors, providing a better user experience could help you pip them to the post.
Google hopes to launch this new ranking signal next year, so there's plenty of time to work on improving the user experience of your site.
New Attributes to Google My Business
Google My Business (GMB) has introduced even more new features this month to support businesses during COVID-19.
First, Google has teamed up with PayPay and GoFundMe to allow businesses to add support links to their profiles where customers can make donations or buy gift cards for a product/service. According to Google, searches for "how to help small businesses" increased by 700 per cent in March compared to February, so they see these new links as a way to help searchers support much-loved local businesses.
Google has also added attributes to GMB that allow businesses to provide more detail to their listing while operating within the new normal of COVID-19, like "curbside pickup," "no contact delivery," and "dine-in".
Finally, Google is making it easier for businesses to promote their virtual services during the coronavirus outbreak. Google will soon be adding attributes such as "online classes," "online appointments," or "online estimates", and they even plan to expand the 'reserve' feature of GMB to offer appointment bookings for online services.

Keep Up To Date
The Solvers keep connected to all the geeky goings-on in the digital world to ensure we stay on top of our game and our clients stay ahead of the competition. Keep up to speed with all the latest developments by subscribing to the Solve blog.
Or to find out more about our proven SEO or web design services, give our specialists a call today.