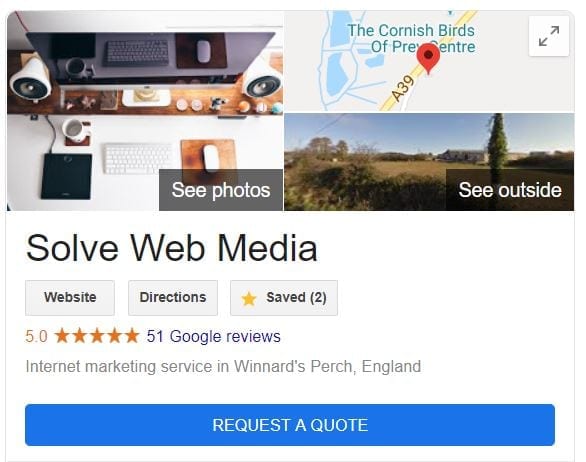 It's been a month of changes here in SEO land – new features, fluctuating results and adjustments to search. Here's our summary of the top SEO developments for July 2019.
Google Maverick Update
It's been a month of crazy fluctuations on Google. Despite the unexpected ups and downs in rankings, Google has neither confirmed nor denied an update, leaving the SEO community to dub it, the "Maverick Update". Thankfully the SEO seas are looking a lot calmer now and rankings seem to have settled back down. Phew!
"Request a Quote" Button on Google My Business
The call-to-action button, "Request a Quote", was launched on Google My Business this month, prompting users to get a quote directly from the search results. This button is a prominent feature in the search console, so hopefully, this will help generate leads for local businesses. To get this button active on your profile, you need to have the messaging function turned on – find out how here.

Google Images New "Swipe to Visit" Feature
This month Google eventually launched the "Swipe to Visit" feature on Google Images, that they announced back at Google I/O. The AMP-powered feature allows browsers on Google Images to visit web pages faster and easier, by showing a site preview at the bottom of the screen. The browser can then swipe up to get a preview of the site's homepage, making them more likely to click through. If your site already supports AMP, you don't need to do anything, your site will automatically appear in Swipe to Visit.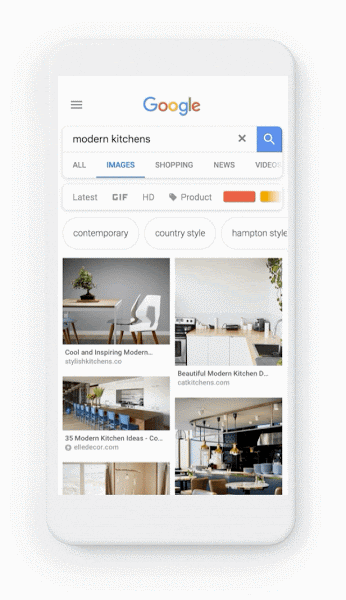 Google also said that'll add "AMP on image result" to the performance report within the Google Search Console, so site owners can analyse their traffic data better.
Google: 'We Made Over 3,200 Changes With 654,680 Experiments In Search Last Year.' That is about 9 changes per day.
We always stress to our clients that the SEO world is constantly evolving and that optimisation is an on-going process that needs regular updating, and Google's admission this month is exactly why. In a blog post about how they keep results relevant, Google admitted to making 3,200 changes to its search system within the last year. Each change has the potential to affect your ranking, so it's critical you invest in on-going SEO to review your position and tweak your strategy accordingly.
View this post on Instagram
Google Releases Javascript Guidelines
Earlier this month, Martin Splitt and Lizzi Harvey from Google released documentation outlining the need-to-know basics for Javascript and SEO. Within this useful guide, Google defines how to optimise Javascript apps for search, including how bots process Javascript and how to write compatible code.
Google Bugs
Google's been a bit buggy this month – maybe it's the heat! In the earlier part of this month, many businesses saw reviews disappearing from their Google My Business profile. This was followed by reports of glitches with geographic reports on Google Ads mid-month. And finally, towards the end of the month, people were reporting issues with the Q&A section of Google Maps. Thankfully the number of bugs has dropped with the temperature and most look like they've now been fixed.
Keep Up to date with Updates
If you want to keep up with all the geekly goings-on in the SEO world, then subscribe to the Solve blog today.
Or if you'd like to talk more about our SEO and web design services, give us a call.